LUNCH SET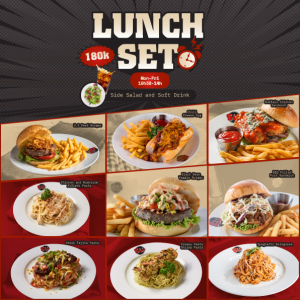 Want an authentic American lunch but does not want to break your bank? Come to S&L's Diner. We have a clean restaurant in the heart of the city, kick ass air conditioning, awesome American classic music and Netfilx on all day for your viewing pleasure.
Choose your favorite Burger:
Chili Cheese Dog
U.S Beef Burger
Buffalo Chicken Sandwich
BBQ Pulled Pork Sandwich
Black Bean Veggie Burger
Or favorite Pasta:
Spaghetti Bolognese
Chicken n' Mushroom Alfredo Pasta
Creamy Pesto Shrimp Pasta
Steak Fajita Pasta
Side Salad and Drink are on the house. All for 180K only!
Visit is on Monday to Friday from 10:30 to 14:00.