CINCO DE MAYO SPECIAL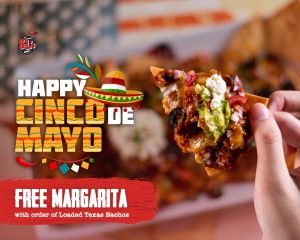 Today is Cinco de Mayo, a holiday widely celebrated in the United States with Mexican cultures and cuisine. A little fun fact, the holiday is bigger in the U.S than in Mexico itself.
In celebration of Cinco de Mayo, we are offering a FREE MARGARITA with any order of ?????? ????? ??????. Only available today May 5.
Visit S&L's Diner today to get a taste of this unique American- Mexican holiday!