NATIONAL DAY SPECIAL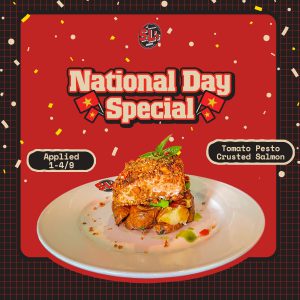 6 years open means many holidays have passed. Every holiday our talented chefs have tried to come up with different specials, and yet they never seem to run out of ideas.
This coming holiday, we are happy to bring you a brand new creation: ?????? ????? ??????? ??????. Baked salmon crusted with sun dried tomato cashew pesto served with roasted baby potatoes, asparagus and cream sauce.
Applied Sep 1-4 at both locations.